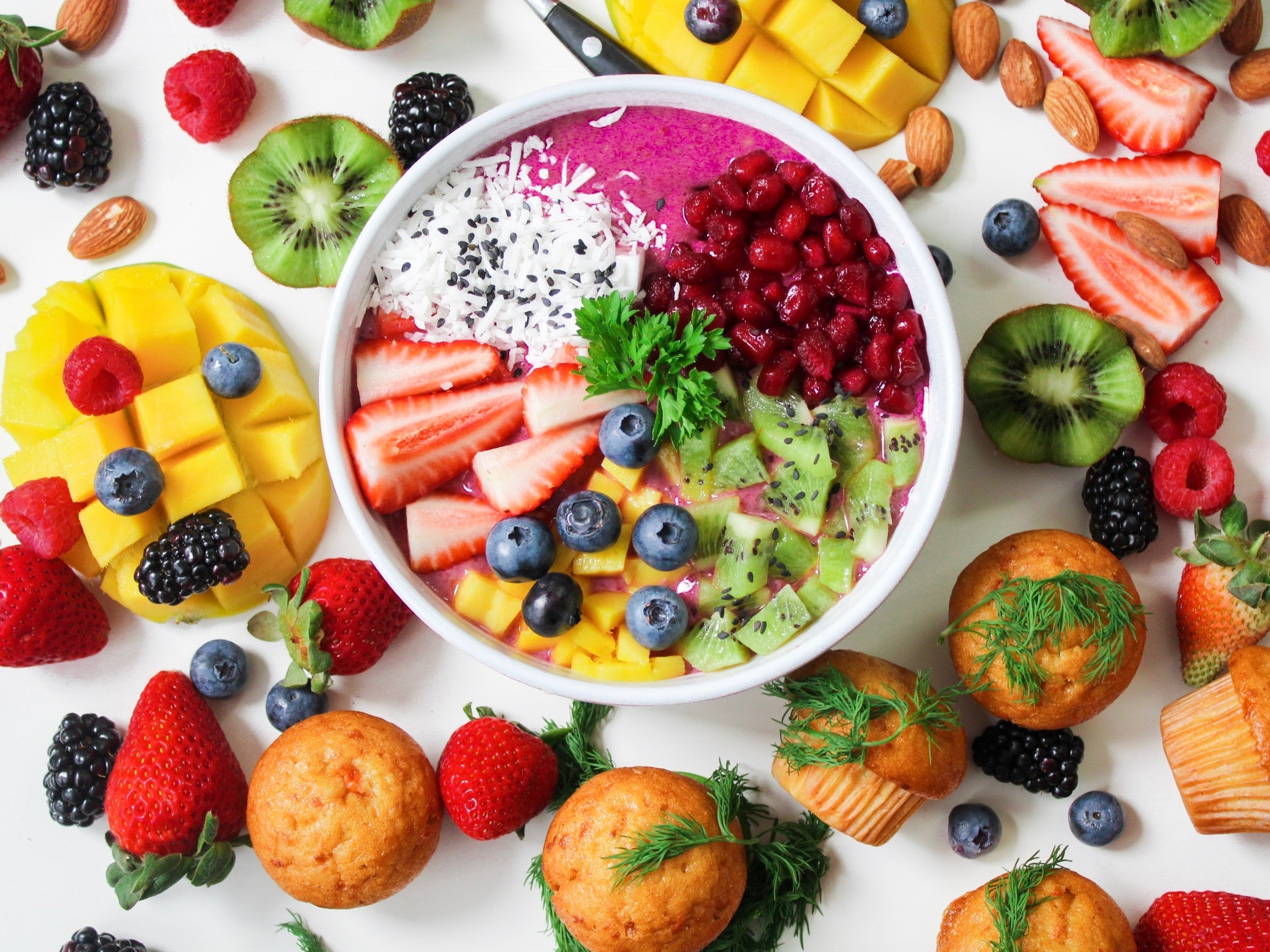 HEALTHY TREATS FOR YOUR BODY AND SOUL
With spring and the warm season approaching, the nature, as well as humans are reawakening, process that implies a great influx of energy and vitality. As easy as it might sound, getting back on track can turn out to be a great challenge. Whether if it's coming from seasonal depression, isolation or gloomy weather, the state of apathy and dullness can easily take over our lives, impacting our mental and physical health.
One of the greatest contributing factors to our stamina is nutrition. Just like any complex motor, our body needs the quintessential fuel that will help it function at its maximum capacity. Replacing refined sugar and carbs, saturated fats and alcohol with greens, fibres and vitamin sources is the best way to start this journey. Along the following lines we have assembled a handful of spring recipes – suppliers of positivity for your body and soul.
Sunshine Smoothie
Despite the predominant melancholic weather, there are many ways to brighten up the days. Starting from within, this Sunshine Smoothie is the hopeful and tasty reminder of the upcoming bright season. The handy ingredients and method of preparation are a bonus!
Ingredients:
500ml carrot juice
200g pineapple (fresh or canned)
2 bananas, broken into chunks
small piece ginger, peeled
20g cashew nuts
juice 1 lime
Preparation:
Put the ingredients in a blender and whizz until smooth.
Coconut and Peanut Butter Energy Bites
The difficulty of saying goodbye to sweet treats can be a great barrier to a healthy lifestyle and nutrition, especially if you have a sweet tooth. Ready in less than 15 minutes, these spiced energy bites are a cosy and comforting snack for the cloudy days.
Ingredients:
260 g smooth peanut butter
120 ml maple syrup
130 g whole rolled oats
100 g shredded coconut flakes
2 tsp mixed spice of choice
Preparation:
Place the peanut butter in a medium saucepan oven at small heat and keep stirring until it's melted and runny. Add the maple syrup and keep stirring until they are both combined, resulting in a smooth consistency. Take off heat when done
In a medium bowl, mix together the oats, shredded coconut and mixed spice. Add the peanut butter and maple syrup mixture and combine it all together. Using your hands (or a cookie dough scoop), roll the mixture between your palms into small balls and place on the baking tray lined up with parchment paper. Once you have used up all the mixture, place the tray with balls into the fridge for at least couple of hours.
Source: Coconut Peanut Butter Energy bites

Beetroot soup
What could be more energizing than an explosion of vitamins and the confident fuchsia of a beetroot soup? The classic Lithuanian recipe is a guaranteed mood booster, not only though its appealing colour, but through its exquisite taste as well.
Ingredients:
500 g raw beetroot
2 sticks of celery
1 large onion
1 clove garlic
3 tbsp olive oil
1/2 tbsp ground cumin
A pinch of dried chili flakes
Ground black pepper to taste
1 tbsp red wine vinegar
850 ml veggie stock
400 ml coconut milk
Preparation:
Top and tail the beetroot, then peel it under cold running water. Cut each one into eight roughly equal pieces and the celery into thick slices. Peel the onion and cut it into eight pieces. Peel the garlic and chop it roughly. Put all these ingredients into a large saucepan, add the olive oil and stir to coat the vegetables. Cook the vegetables over a medium heat for 10 minutes, stirring occasionally. Add the cumin, chilli flakes and a generous twist of black pepper and continue to cook for a further 10 minutes.
Pour the vinegar into the pan, stir the vegetables well and continue to cook until the moisture in the pan has evaporated away. Add the stock and bring the mixture to the boil. Then lower the heat, put a lid on the pan and simmer for an hour, checking and stirring regularly. Use the point of a sharp knife to check that the beetroot is tender, then take the pan off the heat and allow the soup to cool.
Transfer the soup to a blender or food processor and blend until very smooth. Return it to the saucepan, pour in the coconut milk and reheat, stirring continuously. Check the seasoning and consistency – if you would like a thinner soup, add a little more water.
Source: Beetroot Soup

Avocado Black Bean Salad
Daydreaming of picnics and summer trips has never been as relatable as this season. This Avocado Bean Salad will supply your utmost summery fantasy and give you a teaser of the upcoming holiday.
Ingredients:
850 g canned black beans
2 avocados chopped
1 bell pepper
1 small red onion
2 tbsp chopped cilantro or parsley
1 lime
2 tbsp olive oil
1 tsp salt
1/4 tsp cayenne pepper
Preparation:
In a large bowl, add beans, avocado, bell pepper, red onion and cilantro. Set aside. Zest your lime, then juice your lime. Add both to a small bowl along with your olive oil, salt, and cayenne pepper. Whisk to combine.
Pour dressing over bean mixture and toss to evenly coat. Serve immediately, or cover and chill for 1 hour before serving.
Source: Avocado Black Bean Salad

Hummus Veggie Wraps
Did you ever wish you could keep spring in your pocket?
These hummus veggie wraps are a tasty approximation and a healthy takeaway snack.
Ingredients:
3 lavash bread (or large flour tortilla)
1 bunch of kale or any leafy greens of choice
1 bell pepper slices
1-2 carrots sliced lengthwise
1 cucumber thinly sliced lengthwise
3/4 cup hummus
Red pepper flakes to taste
Salt and pepper to taste
Preparation:
Place lavash bread (or tortilla) on a flat surface, spread ¼ cup hummus over ⅔ – ¾ of the wrap, leaving an inch on both ends. Layer it with veggies, then wrap one end up, over, and roll.
Slice in half, and enjoy now or store for later.
Additional Sources:
https://www.healthline.com/health/depression/diet#Foods-that-Might-Help